What would you spend £250
of Amazon vouchers on?
Get £250 for every
business you refer
We value your judgement, so when you refer a business you believe we can help, we'll send you a £250 Amazon Gift Card if they become a paid customer.
Even better, you'll be genuinely helping a deserving business with their marketing and growth challenge. We'll even give them £250 off their first month of brillea. Easy, peezy, right?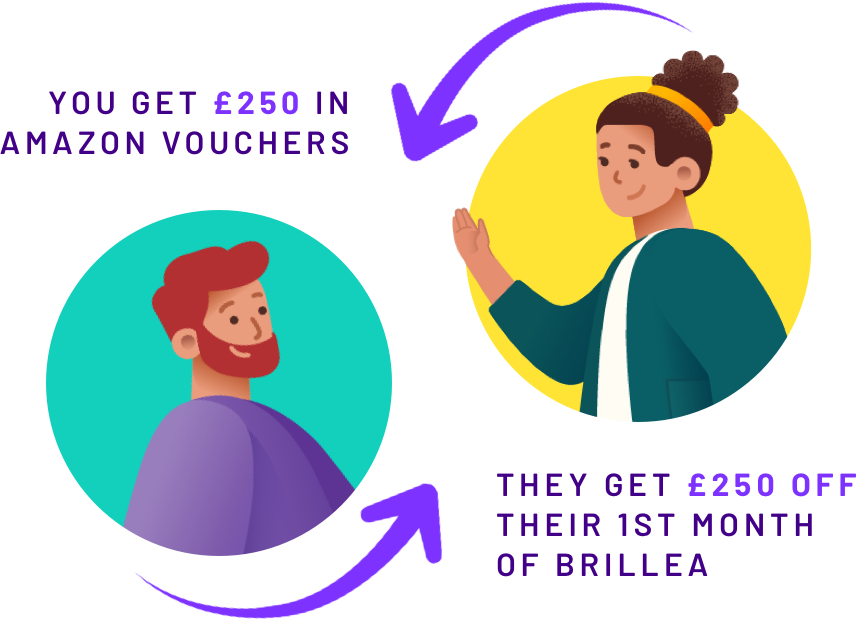 Why we're worth the referral
brillea takes the stress out of digital marketing with one easy, effective and affordable solution.
Proven growth process
Used by successful startups
& global brands. More importantly,
it just works
Cost effective
We're cheaper than comparable agencies, freelancers
or permanent hires
Designed to win
We're on a mission to help deserving startups and small businesses grow through their marketing
Its super simple to refer someone
But hurry! You have to get your referral in before 31st October (spooky!)
Drop them an email
Simply drop your contact an introductory email and CC [email protected] before 31.10.2020
We'll chat directly
We'll find out what their marketing goals are and explain how we can help
Get your vouchers
We'll email your £250 Amazon Gift Card when they've become a brillea customer
Who we're looking for
We understand the challenges startups and small businesses face with their marketing and getting early customers, so we created brillea to make this easier.
Help us help those who need marketing help!
Businesses who need sales, sign ups or app downloads to grow

B2C startups and smaller businesses

Businesses who can't afford an agency but need marketing help

Businesses where Facebook, Instagram and / or Google Search seem a natural fit.
Frequently asked questions
How quickly do I get the Amazon vouchers?
Once your business has started their first month on brillea and made payment to properly kick things off, you'll get an email with your Amazon vouchers within 4 weeks.
Happy spending
Is there a limit to how many people I can refer?
No, there's no limit to how many businesses you refer, so fill your boots !
However you'd be wise to keep an eye on our T&Cs as this offer won't around forever.
See our T&Cs here [link]
So can anyone refer a business to brillea, not just existing customers?
Yes our referral programme is available to all, not just existing customers.
So if you know any startups or small businesses who need marketing help and you think would benefit from a brillea boost, go for it.
Ok go on, what should I spend my £250 of Amazon vouchers on? Inspire me!
My friend, the world is your oyster :)
However if you're having a momentary lapse and need a little help, here's what we recommend
Pretend to be social distancing but actually enjoy the ability of leaving the house and not having to interact with anyone else till you return.
A hoodie Zuck would be proud of!
Ok its not quite a hoodie made especially for Mark by Brunello Cucinelli but you'll still look super sharp in this bad boy
Now that you've done your good deed for the week, helped your pal out and have that warm fuzzy feeling in your stomach, go get a flight to a beach somewhere and use your brand new GoPro to capture that sunset. But please, for the love of God, find any song that isn't Petit Biscuit - Sunset Lover. You're not original.
A De Longhi, Bean-to-Cup Coffee Maker
Phew. You must be tired from helping your mate finally achieve the marketing their business needs and deserves. Good job. Treat yourself to a double espresso to wake yourself up.
Who would make an awesome business for brillea?
brillea is perfect for a wide range startups and small businesses looking to get more customers, sales, signups or app downloads.
However since you've asked, there are a few tick boxes for the business
The mandatory stuff
Must be B2C
They need UK customers
Have some budget and can afford at least £2k a month on marketing (including brillea)
Obviously needs to have a significant chunk of their business online
Some nice to haves
Purpose driven (these are the guys we really want to help)
Ideally they're an existing businesses and already gone through the painful bit of launching
People you'd also want to work with! If they're not, they probably wouldn't be for brillea either :)